Just like many consumer products we use, solar equipment has gone through, and continues to go through, several incentive programs and financing structures in an effort to make it affordable and available to as many people as possible. The first step towards making solar a viable option to reduce energy costs is the ability to deposit unused electricity from your solar array, into the local grid, at times when your solar production is greater than your electrical consumption, known as "net-metering".
Net-metering makes it possible for the utility company to keep track of how much electricity you have contributed to their grid, and they deduct that amount from your monthly bill. By properly calculating previous electrical usage, and sizing an appropriate solar array, it is possible to completely offset your yearly electrical usage by using solar power*. This is the most basic value of every solar module across the globe; by producing electricity on your property, you no longer need to buy it from the utility. The exact value of your solar energy is whatever the cost of electricity is in your area.
In the US and overseas, there have been several different incentive programs that have helped reduce the burden of the initial cost of solar energy, as well as rewarding continued solar production. Cost incentives have come in the form of tax credits, as well as $ per watt rebates. After paying to install your solar system on your home or business, you can take a percentage of the total cost of installation, and deduct that amount directly from your yearly income tax requirement. That means either writing a much smaller check to the government, or, even better, getting a big check back in the mail. Other incentives, offer an exact dollar amount, for every watt installed. Often these programs start with a large value per watt, and diminish over time as more systems get installed. New York has recently started such a program, so you better get your paperwork in early before funds get depleted. Many solar installers have restructured their payment options, so that the customer has less money to pay up-front, and the installer files for the incentives, and waits for those checks to come**.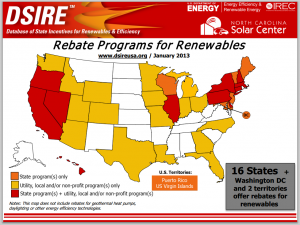 Incentives based on performance come in the form of Renewable Energy Certificates (RECs) and Feed-In-Tariffs (FITs). Depending on the location, one REC is rewarded for every pre-determined amount of solar energy produced, often per 1000 kiloWatt hours (kWh). Once a solar owner accrues these RECs, they can be sold on the open market to utility companies, who are required by the state to purchase RECs to account for their renewable energy production towards their Renewable Portfolio Standard (RPS).  While RECs have proven to be a popular way to get people to install solar, they have also proven to be a very volatile commodity, with their values fluctuating drastically, making for nervous solar investors. FIT's are similar in that they are rewarded per unit of energy as it is produced, but it generally has a more defined value, and is doled out directly from the utility to the solar array owner. Where REC values fluctuate with the market, FITs have set prices.
These are some of the most common solar incentive programs in the US. Feel free to comment if you know of other forms of incentives available in the US or abroad.
*On the technical side, net-metering is important for another reason. Solar modules can turn sunlight into electricity, but they cannot store that energy. Instead of installing a battery bank connected to your solar array, so that you can use electricity at night when the sun isn't shining, we use the grid for this purpose. By generating more energy during the day than we need, we are able to offset out nightly usage. By properly calculating local average daily sun hours, along with shading, azimuth and tilt, you can accurately calculate how much a solar array will produce in a given year.
**Check www.dsireusa.org for complete lists of all energy efficiency upgrade incentives, and contact a local solar installer for up to date information.