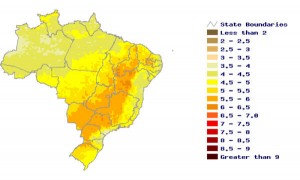 Brazil has started to become a major player in the global solar game; the economy of Brazil aims for $3 billion in the solar sector within the next 20 years. The plans started mid 2012 when the 'Agencia Nacional de Energia Electrica' (ANEEL) announced a new regulation for solar panels concerning net metering. ANEEL decided that homeowners and small business owners could offset their electricity consumption through solar energy generated during the day, to compensate for the energy consumed during the night. The legislation covers photovoltaic power generation up to one megawatt.
With increased movement in the area, the large photovoltaic event 'Intersolar South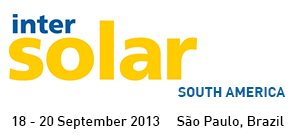 America' was held in Sao Paulo, Brazil last month. The 64 exhibitors had the opportunity to educate Brazilians attending the convention on all things solar; most of them eager to learn more about the upcoming solar market in their country. Although there was great enthusiasm at Intersolar SA, there is still little movement. The government's recent opening of energy auctions to solar technology, and other new regulations, make for a budding solar market; however, there are still a number of barriers to overcome. For instance, not many people are qualified to receive incentives, and only about 200 models of some 25 manufactures have been approved for use. With solar just starting to take hold in Brazil, the very favorable tax framework for PV gives the country a positive forecast with no less than 100 GW of installed photovoltaic power by 2050.
With new laws passed, Brazilian homeowners are now able to apply for state financing when they invest in solar electric systems. The only requirement is that the solar installation must consist of at least 60% domestic components. This regulation should make it much more attractive for Brazilian homeowners to invest in solar power, which has already increased the demand and supply of solar panels in Brazil, and is expected to continue to increase in the coming years.